Georgia

| | |
| --- | --- |
| COOMET MoU year of signing: | 2006 (full member) |
| Area: | 69 700 km2 |
| Population: | 3.7 million |
---
1. Law on metrology
"Product Safety and Free Movement Code", ¹ 6157-Iს
Date of publication: 25 May, 2012
Last modified date: 05 February, 2020
2. Metrological infrastructure
Metrology Institute of Georgia
is a structural unit of Legal Entity of Public Law –
Georgian National Agency for Standards and Metrology (GEOSTM)
, which is in the system of the Georgian Ministry of Economy and Sustainable Development. Legal basis for providing uniformity of measurement in the country is Product Safety and Free Movement Code, which includes laws "About Provision Uniformity of Measurements", and also other laws related to Quality Infrastructure.
Objectives, functions, rights and obligations of the Agency are represented by:
Reproduction of measurement units by means of measurement standards and reference measuring equipment, transfer of units in Georgia in order to provide uniformity of measurement on the country's territory;
Participation in creation and development of measurement standards base for verification, calibration and type approval works of measuring equipment (including imported ones) in accordance with the Georgian legislation in force;
Participation in forming and conducting state policy in the field of standardization and metrology and coordination of activities in these fields;
Participation in forming of metrological system in accordance with the legislation Georgian in force;
Participation in developing normative base for improving fields of uniformity of measurement;
Organization and conduct of works on reproducing measurement units by means of measurement standards for providing uniformity of measurements on the whole territory of the country;
Participation in works of developing scientific-methodic basis for developing system of uniformity of measurements;
Organization of works related to standards registry, its management and provision of publication of standards list (registry).
MI activities covers works on:
development, maintenance and improvement of measurement standards base;
maintenance of registry of national (state) standards of Georgia;
calibrations and measurements;
verification;
expert measurements;
type approval, type registration of measuring instrument;
maintenance of registry of type of measuring instrument;
recognition of results of initial verification, etc.
Organizational Structure of the Agency (GEOSTM)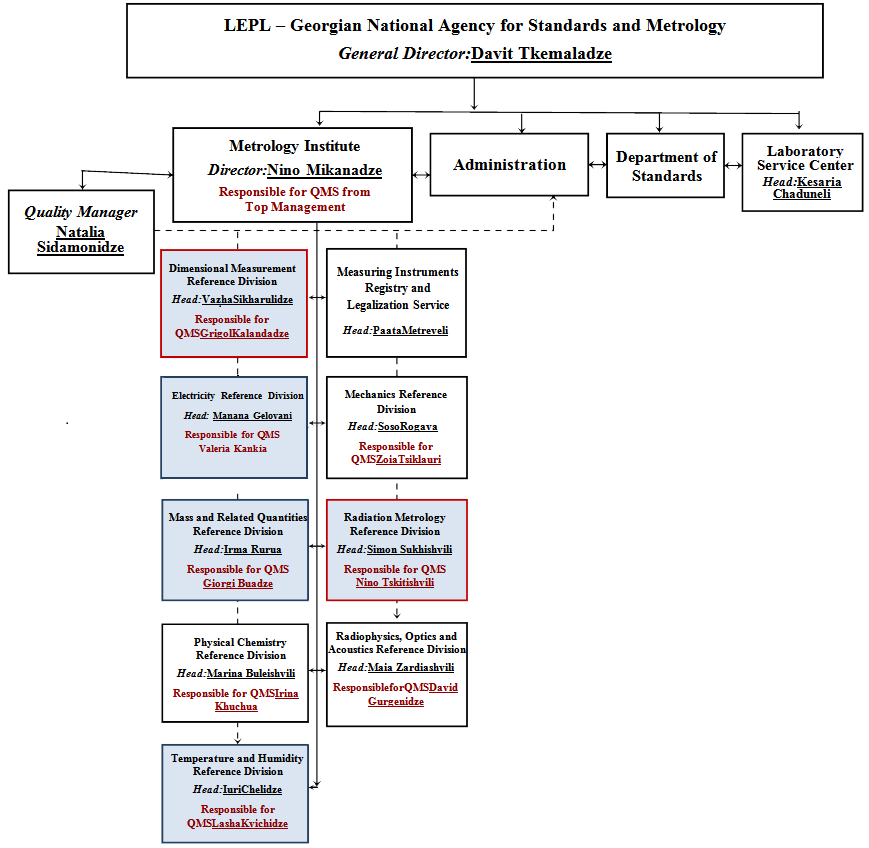 For 100% factor of availability of public information for the year 2014 (similarly like in 2012-2013) the Agency was awarded a certificate by the Institute for Development of Freedom of Information (IDFI).
The Agency was awarded a diploma of the Ministry of Economy and Sustainabale Development of Georgia within the framework of the Success and Recognition program in the nomination - "Structure of the Future".
Organization management and contact details:
Georgian National Agency for Standards and Metrology (GEOSTM).
General Director:
Mr. Davit Tqemaladze
Address:
Chargali Str., 67, 0178 Tbilisi, Georgia
Telephone:
+995 32 261 35 00,
+995 32 261 25 30
Fax:
+995 32 261 35 00
E-mail:
d.tkemaladze@geostm.ge
Web:
http://geostm.ge/
| | |
| --- | --- |
| Director: | Mrs. Nino Mikanadze |
| Address: | Chargali Str., 67, 0178 Tbilisi, Georgia |
| Telephone: | +995 32 261 77 57 |
| Fax: | +995 32 261 35 00 |
| E-mail: | nino_mikanadze@yahoo.com |
3. National measurement standards
4. Status of participation in Metre Convention
Georgia is an associate member of CGPM since 2008.
Signatory of the Mutual Recognition Agreement (CIPM MRA): National Agency of Georgia for Standards and Metrology (GEOSTM) (June 17, 2008).
(Has the right to use the CIPM MRA logo from June 3, 2014).
https://www.bipm.org/en/about-us/associates/ge/
5. Certificates of recognition of QMS of NMIs (within COOMET)
GEOSTM QMS certificate of recognition (ISO/IEC 17025): QSF-R58 until 04.10.2023
6. Status of Calibration and measurement capabilities (CMC data)
7. OIML membership status